Madeira Beach is a community in Pinellas County, Florida, United States bordered on the west by the Gulf of Mexico and on the east by St. Petersburg. As of 2004, the population recorded by the U.S. Census Bureau is 4,492. Those living in this small (2 miles long) Florida city are within minutes of the beach if they don't live right on it. The area is primarily residential with little or no industrial or sizable service businesses. Residents are mostly supported by commercial interests outside the area and a large number of residents are retirees. Entertainment district John's Pass is located on the Intracoastal Waterway.  Check out history of John's Pass.
There is where you will find Captain Steve and his Sightseeing Water Taxi/Limo, 55 ft. Bluewater Cruiser parked by Madeira Beach.  Captain Steve of Captain Steve Tours takes his crew on affordable day cruises from Tarpen Springs, FL to Venice, FL.  His  cruises can be customized to fit your needs.
FROM
" WATCHING THE DOLPHINS PLAY ON BOCA CIEGA BAY."
TO
CALADESI ISLAND PICNIC TOUR
JOIN US FOR A DAY OF FUN AND SUN
8:00am TO 4:30pm
ENJOY A LEISURELY BOAT RIDE UP THE INTRACOASTAL TO BEAUTIFUL CALADESI ISLAND STATE PARK.
Bring your picnic basket  and cooler with lots of food and drink and enjoy the day at Caladesi Island State Park.  And let Captain Steve Tours take you on his
55FT.YACHT"SHAMAYEM"
PRIVATE TOURS (max 40 persons)  to a BEAUTIFUL ISLAND for picnics,  BBQs, weddings, birthdays, Anniversary and Memorial Services or any SPECIAL OCCASION.  Ask us about our all inclusive rates that are the lowest anywhere
Enjoy a day of Luxury aboard our 55 ft. BLUEWATER CRUISER.   Cruise in comfort and style as you enjoy the beauty and serenity of THE FLORIDA SUNCOAST.    For an hour, half day, full day or weekend.  Let us, and your imagination, transport you to a place you may have only dreamed about.
(LONGER TOURS AVAILABLE AT SPECIAL RATES)
Captain Steve has over 20 years experience in the boating and sightseeing business.
The captain is also licensed to perform marriages.
Book your tour today!!
Check out Captain Steve Tours Website For all prices
Check out SPECIAL TOURS
Breakfast/Buffet Cruise,
Lunch/Early Bird Cruise,
Early Bird/Dinner Cruise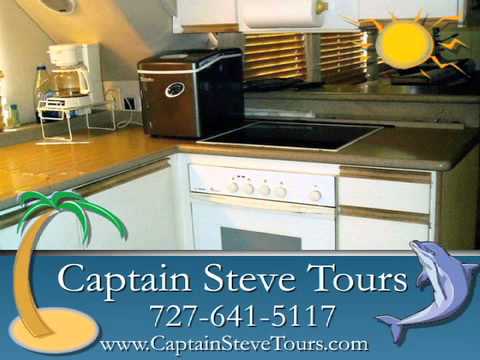 Related Posts :