THE BRIDGE:  What does a boxer and the Verazzano-Narrows Bridge have in common? Good question!!.  I would not be writing this blog if I had not been watching a certain movie that brought the boxer together with the Verazzano Bridge. First a brief history about the bridge which was constructed in 1959 and it opened in 1964.  It has a length of 42,260 (main span) and 13,700 feet (total length). When it opened up, it was the worlds longest suspension span.  The ends of the bridge are at historic Fort Hamilton in Brooklyn and Fort Wadsworth in Staten Island, both of which guarded New York Harbor at the Narrows for over a century. The bridge was named after Giovanni da Verrazano, who, in 1524, was the first European explorer to sail into New York Harbor.
Its monumental 693 foot high towers are 1 5/8 inches farther apart at their tops than at their bases because the 4,260 foot distance between them made it necessary to compensate for the earth's curvature. Each tower weighs 27,000 tons and is held together with three million rivets and one million bolts. Seasonal contractions and expansions of the steel cables cause the double-decked roadway to be 12 feet lower in the summer than in the winter.
Located at the mouth of upper New York Bay, the bridge not only connects Brooklyn with Staten Island but is also a major link in the interstate highway system, providing the shortest route between the middle Atlantic states and Long Island.
In Brooklyn, the bridge connects to the Belt Parkway and the Brooklyn-Queens Expressway and to the largely residential community of Bay Ridge. On Staten Island, which saw rapid development after the bridge opened in 1964, it joins the Staten Island Expressway, providing access to the many communities in this most rural of the city's five boroughs.
THE BUILDING OF THE VERRAZANO-NARROWS BRIDGE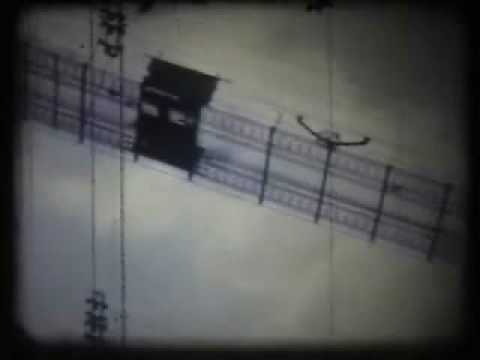 Happy 40th Birthday – Verrazano Bridge – November 21, 1964-November 21, 2004
Discover the Verrazano-Narrows Bridge (map)
CINDERELLA MAN:  THE CINDERELLA STORY OF JAMES BRADDOCK
A Brief History of the Life and Times That Led to a Lasting Legend
THE BOXER: The Jazz Age of the 1920s was a golden time for America, as the nation celebrated peace and booming prosperity on the heels of World War I. It was also a Golden Era for boxing, the brutal yet beautifully balletic sport that had captured the public imagination with its raw, primal struggles for transcendence in the ring. In the melting pot society of the early 20th century, disparate immigrant groups drew pride from their "native" sons who boxed;communities with strong Old World roots found a focus, an expression of their heritage, each time a fighter wearing their national colors or symbol climbed into the ring. It was during this era that James J. Braddock, a New Jersey-based amateur known for his fierce right hand, turned pro. Like many working-class kids, Braddock saw boxing as his ticket to a decent life. It was the only thing he was ever good at and for a while he was very,very good. His career shone with promise in the early years, when he was dubbed "the Bulldog of Bergen" for an unflinching tenacity that seemed to carry him through fights with far larger opponents.But, after sustaining irreparable damage to his badly broken right hand, his career began to slide downhill. In 1929, he suffered a crushing defeat at the hands of light heavyweight champ Tommy Loughran, who beat him in a heartrending 15-round decision that touched off a seemingly endless string of bad luck and ugly losses. Braddock was never the same again. Nor was the nation. That same year, the stock market crashed, wiping out 40 percent of the paper values of common stock. As the shockwave spread, American families from all walks of life and every economic class lost their savings, their businesses, their homes and their farms. By 1932, nearly one in four Americans was unemployed.
During the "Great Depression" the nation was reeling in shock, as throngs of once working families began showing up at Salvation Army shelters. Food lines, work lines and Public Relief lines something many Americans never thought they would see in their own country became a common place sight.The poorest of the poor were forced to live in "Hoovervilles," grim cardboard-shack shanty towns that sprang up on the edges of most major cities (named with bitter irony for U.S.President Herbert Hoover, who, prior to losing the 1932 election to Franklin Delano Roosevelt, had failed to put into place any federal aid programs for struggling families). Thousands upon thousands of others roamed the country, searching for any job no matter how hard, demeaning or dangerous. For the first time since the nation's pilgrim beginnings, many Americans faced the very real and haunting prospect of hunger and malnutrition. Suicide rates among men who had lost their jobs soared.
Like so many bankers, butchers, farmers and factory workers, Jim Braddock watched as his life, too, began to fall apart.
When the local boxing commission forced him to retire by revoking his license, Braddock searched valiantly for any available jobs, but there weren't many. He took hard-labor jobs in the ship yards, hauling sacks, or anything else he could get.Yet he was making so little that at one point, Braddock was trying to feed a family of five on just $24 a month. It seemed like a losing battle. When the family could no longer afford the basics milk, gas, electricity Braddock applied for Relief. It was a terrible blow to his pride,a secret shame that many who had always worked for their families were experiencing across the country. But then in 1934, just as Roosevelt's New Deal began to kick into high gear,Braddock's luck began to shift as well. Unexpectedly, he was given the chance to fight John"Corn" Griffin in a bout Braddock was, by all accounts, pretty much guaranteed to lose. Instead, he managed to dance and jab his way to a win no one could quite believe, thanks inpart to a newly strengthened left hand as a result of his stints working on the docks. Shortly after that, as if to prove it wasn't a fluke, he won a 10-round decision against Hall of Fame light heavyweight John Henry Lewis. Then, he took on Art Lasky, who had won all but one of his last 15 fights yet Braddock dispatched him too in a thrilling 15-rounder.
With these remarkable wins, Braddock's spirit became renewed. Remarkably, one of the first things he did with his earnings was to pay back his Public Relief debt to the government. This selfless act of honor earned Braddock a new moniker among his growing ranks of American fans: "Gentleman Jim." Suddenly, with his fame beyond the boxing world increasing every day, he found himself in the unlikely position of being able to make a title shot against heavyweight champion Max Baer.
It might seem like a chance any boxer would jump at but Braddock had plenty of reasons not to take the fight. In fact, many in the sports world warned that it was a potentially deadly match-up. Braddock was much smaller than Baer, far less experienced and had to rely mainly on his new found left hook, favoring his formerly injured right. Baer, on the other hand, had recently been brought up on manslaughter charges when one of his opponents was instantly killed by his power house knockout punch. Though he was later cleared of the charges, there was little doubt that Baer, when riled up, was one of the most dangerous fighters in the sport. (Baer had also subjected opponent Ernie Schaaf to a knockout punch in the tenth round of their 1932 fight, leaving him unconscious; Schaaf later died following a bout with Primo Carnera and his death was attributed in part to the brutal beating at the hands of Baer). In 1933, Baer fought one of the greatest matches of all time, knocking out Max Schmeling in a ten-round fight that would go down in history. In 1934, the same night that Jim Braddock fought Corn Griffin, he defeated Primo Carnera, knocking him down 11 times in 11 rounds.
Despite critics' cries that Braddock-Baer would be an unfair bout and his wife Mae's concerns that she could lose her husband to a boxing match, Braddock persevered and jumped into some of the most challenging training a boxer had ever undertaken. The build-up to the match only increased the tension, with Max Baer publicly predicting an easy knockout and reportedly taunting Braddock by calling him a "bum" an insult Braddock definitely could not let pass without an answer.At last, the Braddock-Baer fight took place on June 13, 1935, in front of a packed crowd of 35,000 fans in Madison Square Garden. Millions more huddled around their radios to hear the blow-by-blow commentary. Baer came on strong in the first few rounds, but Braddock was undeterred—fueled as he was, fighting for his family's survival. Each time one fighter dominated the round, the crowds anticipated an early end to the fight, yet the opponent invariably rallied back. This nearly impossible to call, give-and-take battle continued for an unbelievable 15 rounds. Braddock, possessed by an unfailing spirit and pounding away with remarkable endurance, lasted all 15…and finally won the fight in a unanimous decision.
Instantly, it was proclaimed the greatest upset in boxing history…if not all of sports. In bars and living rooms around the country, ordinary people celebrated Braddock's championship as if he were one of their own family. The fight seemed to remind a desperate world that sometimes the down-and-out not only manage to stay alive but, in the process,become the greatest on earth. It was incredibly fitting that sports writer Damon Runyon had dubbed Braddock the "Cinderella Man" because his rags-to-riches story so resembled a classic fairy tale.
Braddock continued to fight, losing the heavyweight title to Joe Louis in 1937 in an eighth-round knockout (Louis was then 23 while Braddock was a comparatively ancient 32 and Louis would later say that Braddock was one of the most courageous fighters he everfought). He went on to beat the odds one last time, defeating the talented Tommy Farr in1938, putting him in position to fight for the title again. But instead, he retired, saying to reporters that he was doing so not because he was done fighting but out of fairness to his wife and family.
Over the years, Braddock continued to be a hero to all those who knew his story. He was inducted into the Ring Boxing Hall of Fame in 1964 and International Boxing Hall of Fame in 2001. He served honorably in World War II and went on to own and operate heavy equipment on the same docks where he labored for a pittance during the Depression. In the 1950s, he helped to build Brooklyn's famous Verrazano Bridge, which was at the time the largest suspension bridge in the world. He died in 1974 at the age of 68.
More on James Braddock – The Cinderella Man
NT Times Article of 1963 Braddock working on the Verrazano-Narrows Bridge
Biography of James J Braddock "Cinderella Man"